| | | |
| --- | --- | --- |
| " | 英雄只有在自己家族中有地位 | " |
| | —傑克・馬斯頓 | |
傑克・馬斯頓(John "Jack" Marston, Jr.)是《碧血狂殺》和《碧血狂殺2》中的主要角色。
在《碧血狂殺》 Liars and Cheats這個DLC 包中登場,同時也是多人模式遊戲中可選的角色。
小強.傑克.馬斯頓 生於1895年,是約翰‧馬斯頓 和阿比蓋爾的兒子,如同他父親一樣 也是個妓女的兒子。遊戲裏直呼小兒子為傑克,小強是教名,而傑克隻是個昵稱。他的具體出生地或日期目前為止。
他的幼年是伴隨著父母在德奇的幫派中度過的,後來一家三口遠離了江湖。隨後他們購置了位於Blackwater城附近的一大片土地,一家定居下來,此間傑克學會了很多如讀書認字和套馬等實用技巧。
1911年,一個神秘的探員埃德加羅斯突然找上門來並帶走了娘倆,逼使馬斯頓去除掉他以前的所在的林德領導的幫派。在約翰完成了任務後,一家得以重圓。
當他們回到農場,馬斯頓教會了兒子養牛和狩獵狼和馬鹿等技術。傑克擔心父親總會有再次消失的一天。為了這個目的,他冒著被灰熊襲擊的危險跑進了群山之中,差點死去。
後來美國軍隊襲擊了馬斯頓一家的農場,他和父親一起戰鬥,但馬斯頓讓兒子和妻子騎馬逃走,最終約翰被軍隊槍殺,而殺死他的,正是之前羅斯探員。
三年後傑克的母親阿比蓋爾去世了,而傑克跟蹤羅斯到墨西哥並成功手刃殺父仇人
碧血狂殺2
编辑
傑克在本作中為支援型的角色
| | | |
| --- | --- | --- |
| " | The arrogance of youth. He gets a little fur on his lip and he thinks he knows best all of a sudden. | " |
| | —John to Bonnie MacFarlane regarding Jack, "The Outlaw's Return". | |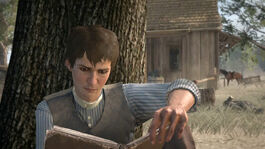 Born as the son of two former criminals, Jack's parents worked their hardest to give Jack a brighter future and a better life than they ever had. As a result, Jack initially lacked his father's courage and superior combat, farming, and survival skills, but possessed intelligence and softness that far suppresses John's.
Jack was a bright young man and spent most of his time reading different books that further expand his knowledge. By his own admission, he greatly enjoyed reading about wild adventures and brave heroes, which gave him a more romanticized view on the Old West, and his remarks in 1914 suggest he looked up to the legendary Landon Ricketts. His love for books and stories prompted him to aspire to become a writer or a scholar, which his parents partly approved, as they also wished for him to be a rancher.
At times he appeared to be somewhat timid and was often mild-mannered when speaking to his family or friends. A major theme of his character is his sense of inferiority when compared to his father John, a veteran and experienced gunslinger and hunter. This led Jack to feel insecure and frightful whenever John approached him and made him all the more desperate to prove his worth to both his father and himself.
Despite the mutual struggle to understand each another, Jack shared a very close bond with John. He also cared deeply for his mother Abigail, who worried about Jack's condition after the two were released from the Bureau control. He was also the only member of the Marstons who seemed to be in a constant positive relationship with Uncle, who taught him several inappropriate things much to John's disapproval.
The death of his family and the decline of the Marston ranch, all happening in a very short amount of time, greatly darkened Jack's personality. His grief and loneliness appear to have developed a severe case of depression and self-loathing. Many of the lines he says in different activities imply he became a death seeker with a subtle sadistic streak. He also appears to be both proud and ashamed of his heritage.
He became somewhat cold and ruthless, making some dark jokes whenever he kills a horse, an outlaw or a woman, but also shows signs of disgust at himself and questioning his own actions. He also developed an intense hatred for the American government and its law enforcement organizations, deeming them the real criminals and the people responsible for the demise of his family.
Jack's deep love for his family also ironically results in becoming the very thing his parents didn't want him to be: an outlaw. It was this love and grief that led him to hunt down Edgar Ross three years after his father's death, determined to avenge the Marstons even at the cost of his own innocence and future. At the same time, however, he also showed self-doubts about his motives, and even a hint of regret after gunning Ross down.
In his quest for revenge, Jack kept a rather calm and friendly demeanor, and had his anger in check, only showing his intense hatred for Ross when the latter dismissed John's death upon being confronted.
In 1911, Jack is a teenage boy roughly the same height as his father John. He wears a grey vest over a striped shirt whose sleeves he keeps folded, and a pair of dark brown pants. He keeps his hair short, which is dark brown in color and somewhat ruffed. He gains several facial scars following an encounter with a bear in "Spare the Love, Spoil the Child".
In 1914, Jack has aged considerably; he is slightly taller, sports a shoulder-length hair that resembles his father's, a goatee and a mustache, the last of which showcases a scar on the right side of his upper lip. His main attire consists of a beige colored jacket worn over a white shirt with a striped scarf around his neck, complete with dark grey pants. He also wears what appears to be his father's hat.
Jack can be found as an NPC at Beecher's Hope between the mission "The Outlaw's Return" and "The Last Enemy That Shall Be Destroyed". He can be seen to do various different actions depending on the time of the day, playing with a Repeater Carbine during the day, and sitting next to the fireplace and playing the harmonica during the night.
Jack is first playable during the final sequence of the mission "The Last Enemy That Shall Be Destroyed"; he is limited to only riding his horse back to the Marston Ranch, and it is the only time where his 16 years-old self is controlled by the player.
Following the completion of the aforementioned mission, Jack becomes the player-controlled character for the remainder of the game. Every weapon, horse, safehouse, Honor, Fame, bounty and outfit that John had is carried over to Jack. This also includes progress in most Strangers side-missions, for which he has his own recorded lines.
As the quest specifically deals with his father's past and eventual fate, Jack is unable to start or continue the side-mission "I Know You". In return, Jack gets the unique "Remember My Family" quest-line, which allows the player to hunt down Edgar Ross and acts as the epilogue and full ending to the game's events.
As the player character, Jack shares most of his animations with his father but is provided with his own unique voice and lines, which tend to include references to his father, mother, Uncle, Landon Ricketts, lawmen and animals. He is also capable of using the Dead Eye Targeting.
Jack gets his own take on the game's default outfit, the Cowboy Outfit, which sees him wearing a beige jacket. He also has access to three law enforcement outfits that cannot be legally obtained by John: the US Army Uniform, the US Marshal Uniform, and the Bureau Uniform.
Mission appearances
编辑
Red Dead Redemption
Undead Nightmare
Red Dead Redemption II编辑
Red Dead Redemption编辑
Undead Nightmare编辑
See also
编辑
Template:Related Content Template:RDR